4/3/2014 2:24:00 PM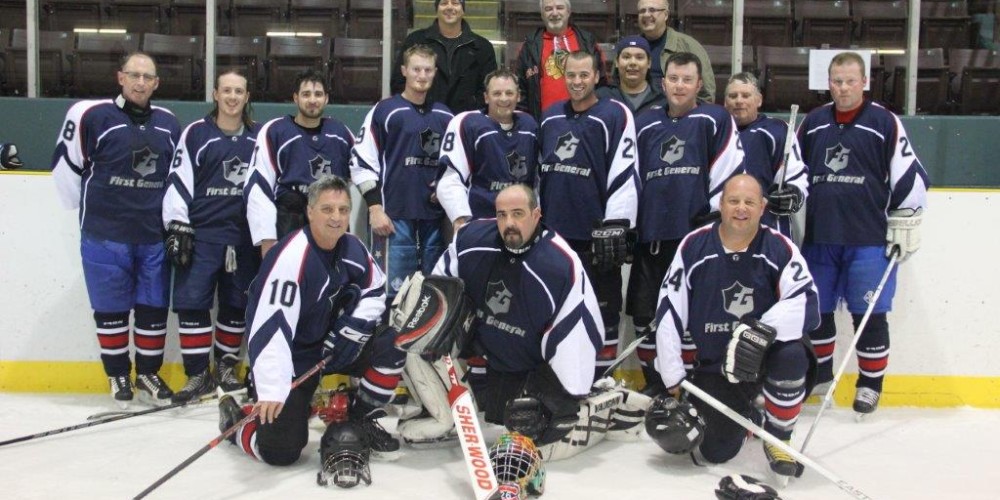 First General made a return to the OGI Hockey Tournament after a decade long hiatus March 28-30, 2014.
The team opened the tournament against eventual group champions Heart Lake Insurance Brokers. Trailing 1-0, C.E.O. Michael Flatt scored the tournament opening goal for the FG Team to knot it at one. Heart Lake again took the lead with a power play goal but the FG boys showed great determination to again tie it up on a goal by Trevor Rogers of FG Niagara. Not to be out done, Heart Lake scored the eventual game winner midway through the third period. FG pulled goaltender David Fernandes in the final minute and mounted furious pressure, but solid goaltending at the other end denied our shooters. Final score Heart Lake 3 – First General 2.
A line-up shuffle produced favorable results in game 2 on Saturday morning in a chippy affair against Cunningham Lindsey adjusters. The new line combinations by Coach Randy Millar of FG Corporate produced big results as the FG team exploded for seven goals to rout Cunningham 7-2. FG was led by a hat trick from Ed Hammond of FG Muskoka, Trevor Rogers netted two, Gerry Denomme of FG Ottawa had one and John Kerr of FG Muskoka scored the highlight goal of the tournament rushing end to end with a brilliant finish to seal the deal.
Having already been eliminated, the final game was for honor against Aon Reed Stenhouse and the offense came to play as FG scored eight goals in this barn burner. Gerry Denomme led the way with two goals with singles by Jan Martel, Andrew Abbruzzese, Steve Dahl, Adam Cummings, Ed Hammond and Trevor Rogers. FG lost star defenseman John Kerr to a broken skate blade in the first period and the defense couldn't hold as we lost 10-8.
A good time was had by all, the camaraderie created a great atmosphere and we are looking forward to continuing this annual tradition. FG members cleaned up at the prize table, taking many of the top prizes.
Thanks to all for attending with a special thanks to Ron Dahl of FG Muskoka for the spiffy uniforms and Jeff and Jen Durrer of FG Grey Bruce/Waterloo for the great pictures.