3/31/2014 2:18:00 PM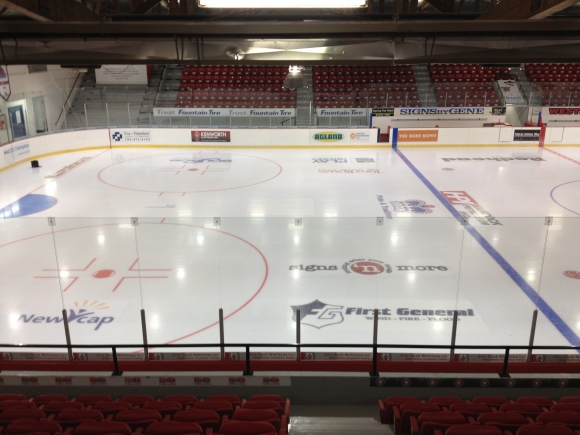 In This Issue
Giving Back
An interview with our CEO
New offices
Website Refresh
We have refreshed FGSNA.com. Did you notice? Check out our new look.
First General Giving Back
Each of our offices is a proud member of their local community. Watch this section of our newsletter to see how we get involved.

You may have watched Hockey Day in Canada a couple of weekends ago, and seen the First General logo on the ice. There is a wonderful story behind that few seconds on TV. Our Lloydminster owners, Rory Christie & Randy Scherr, and their team are active community members and they take pride in supporting the community. As part of their community sponsorship program, First General, and other local businesses, became part owners of the Lloydminster Bobcats, and supporters of Bonnyville Pontiacs. The teams would have likely been moved without this support.

This was just part of the support that First General has given to the local community, including a variety of local sports teams. First General Lloydminster believes in giving back to the community.
St. John's Office Grand Opening
We are excited to announce the grand opening of our St. John's office, which will serve the Avalon Peninsula. Glen Button and Stephen Chaulk are the owners of our newest office, and we are thrilled to have their expertise on the First General team. Click here to find out more.
First General Now Serving NYC
We are excited to announce the grand opening of our New York office. This office will add capacity to an underserved marketplace, working closely with First General Bergen County. Paul and Lourdes Benson have over 20 years of experience in the construction, real estate, and the restoration industry. Recently having moved office locations, they now have the capacity to serve New York City. Click here to find out more.
An interview with our CEO
Michael Flatt, CEO of First General North America, has been working in the restoration industry for over 30 years. He took a few minutes to share insights on what makes First General the company it is today.
What made you select Quality, Integrity and Accountability as the values of First General? And how do you operationalize them at head office?
We chose these values, as they are often areas of concern for our customers. And because they represent what differentiates First General. We strive for the best quality, want to display integrity, and offer accountability. We are now using Xactanalysis, a leading tool to monitor and improve the quality of our work. We now track the performance at each of our offices in Canada, helping owners provide the best possible service to our clients. We hired Randy Millar to champion accountability, and lead our Key Performance Indicator program ensuring we meet our commitment to these values. The program has been so successful that a major nation-wide insurer recently informed me that First General performed best of all their network providers, according to their internal standards, over the past 12 months. Other insurers have also indicated that we consistently rank in their top 3 performers.

You have been leading First General for over 30 years, what moment has made you most proud of our network, and why?
When networks were accepted by insurance companies, for their national response power. I have been champion for this since the 90's and to finally see networks providing responses to Requests for Proposals was a great moment. The development of our Key Performance Indicator program, and associated accountability standards was also a proud moment. I have always known that our offices were amongst the best, now I have data to back it up. It showed we cared for our clients and that we could demonstrate superior service at a fair price.

When you owned the Toronto office of First General, what did you love about being part of our international network?
Networking with other contractors, learning from each other, and growing our network to be what it is today. Also, I was able to see other First General operations, and all the people employed by First General working towards the same goal.